Egg and Chips
Ingredients
2 Eggs
300g Potatoes
4 Tomatoes
Method
Heat oven to 190C/170C fan/gas 5. Cut potatoes to even sized wedges –leaving the skin on.
Tip the potato wedges into a roasting tin. Drizzle over with some oil.
Roast for 25 mins, turning halfway through, until almost tender.
Nestle the tomatoes, cut-side up, amongst the potatoes and return to the oven for 10 minutes.
Make 2 spaces in the tin and crack an egg into each one.
Return to the oven for 6-8 mins until the eggs are just set.
Serve up!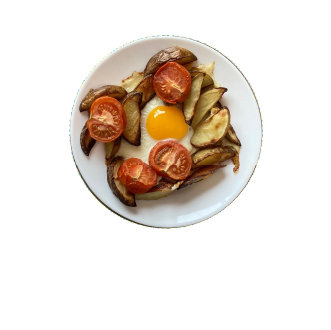 More recipes: