Cheese Roll-Ups with Baked Beans
Ingredients
80g Cheese 2 Tomatoes
4 Slices of bread
200g Baked bean
Method
If you can, use a rolling pin to roll the piece of bread out to thin it then cut off the crusts. Chop the tomatoes into small cubes, add to the bread and sprinkle on grated cheese. Carefully roll up the bread.
Heat a pan on a medium heat, add a little oil or butter and toast the roll up on each side for about 30 secs-1 minute until golden brown.
Heat the baked beans following the instructions on the tin and serve with the toastie roll-ups.
If you wanted to you could dip the roll-up in a mix of 1 egg and a tablespoon of milk before cooking to turn into a 'French toast roll-up'.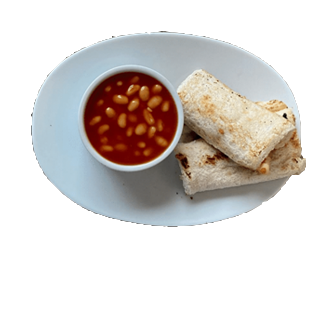 More recipes: