Jerk Chicken Potato Stir Fry
Ingredients
250g Cooked, shredded chicken
300g Sliced potatoes
½- 1 tablespoon Jerk seasoning
1 Red pepper
4 Pineapple rings cubed from a tin and 2 tablespoons of pineapple juice.
Method
Boil the potatoes for approx 8 minutes until tender, drain and set aside.
Meanwhile, heat oil in a large frying pan and stir-fry the pepper and Jamaican Jerk seasoning for 5 minutes.
Add the cooked chicken, pineapple and juice with the potatoes and stir-fry for 2 minutes. Serve immediately.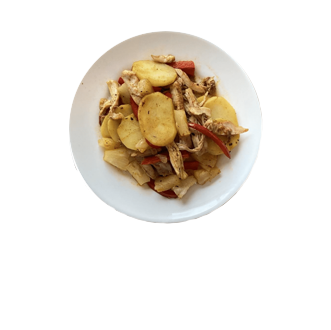 More recipes: