African Vegetable Stew
Ingredients
1 large onion
1 garlic clove
1 tbsp olive oil
2 sweet potatoes
6 fresh tomatoes (or 425g can)
400g can chickpeas
100g raisins
Salt and pepper to taste
A few drops of Tabasco sauce
1 bunch spinach
100g uncooked rice
250ml water
Method
Peel and chop the onion finely. Peel and crush the garlic.
Fry the onion and garlic in the olive oil for 2 – 3 minutes.
Either peel the sweet potatoes, or scrub them well with a vegetable brush, then cut them into cubes.
Chop tomatoes if using fresh.
Drain and rinse the chickpeas.
Add the chickpeas, raisins, sweet potatoes, tomatoes, salt and pepper to the fried onion.
Thoroughly wash the spinach, trim the stems if necessary and chop. Add to the vegetable mix.
Cook for a couple of minutes.
Make a well in the centre of the mixture in the saucepan. Put the rice and water in the well and pat down until it is wet.
Cover and cook until the rice is soft or for about 20 – 25 minutes.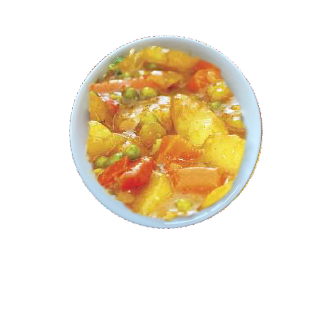 More recipes: