Earth Day Crafts for Kids
Crafts using recycled materials to celebrate Earth Day
The 22nd of April marks Earth Day 2023. These crafts will provide the perfect opportunity for children to explore the world around them, whilst also providing the opportunity for interesting conversations about the environment and protecting the planet.
1) Lollipop stick flowerpot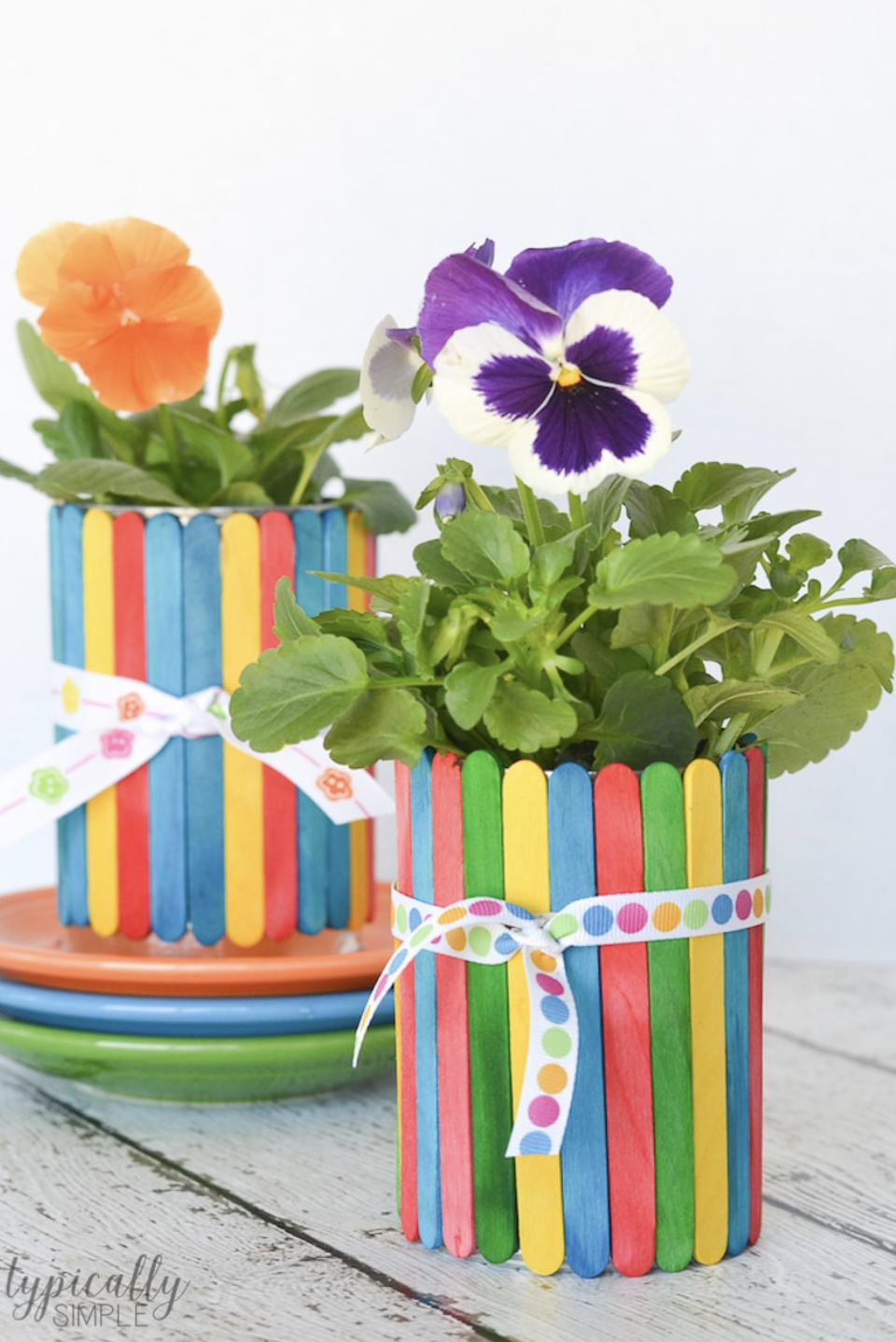 For this craft, you will need lollipop sticks, a clean tin, elastic band, paint/pens, soil and flowers. Firstly, paint or colour in the lollipop sticks. Then, place your elastic band around the middle of the tin. This activity does not require glue, you simply take a lollipop stick and place it underneath the elastic band attached to the tin. Continue doing this until you have covered the tin with lollipop sticks. Once done, you can cover up the elastic band using a ribbon tied into a bow, as seen in the image below. Once completed, fill up the tin using soil and add a flower or seeds! This craft could be given as a gift, or it could be a fun opportunity for kids to grow their own plants and watch them bloom. This craft and image are from Typically Simple.
2) Earth Day Playdough Recipe
Here is a playdough recipe you can do at home with your kids. This is a recipe from BBC Good Food. You will need:
8 tbsp plain flour
2 tbsp table salt
60ml warm water
food colouring (blue and green)
1 tbsp vegetable oil
Don't forget to make 2 batches of this recipe as you will need to create 1 green and 1 blue ball of playdough. Then;
1. Mix the flour and salt in a large bowl. In a separate bowl mix together the water, a few drops of blue food colouring and the oil.
2. Next, pour the coloured water into the flour mix and bring together with a spoon.
3. With some flour on a worksurface, knead together for a few minutes to form a smooth dough.
4. Store in a plastic sandwich bag (squeeze out the air) in the fridge to keep it fresh. Don't forget to repeat these steps again with GREEN food colouring instead. Once the playdough is ready to play with, you can try making an earth shape! Watch the video below for inspiration.